Today, the Saudi Sports for All Federation (SFA) concluded the final match of the SFA Football Championship. Held in Riyadh and aimed at participants aged 35 and above, the tournament attracted passionate football fans and fitness enthusiasts, providing a fun and engaging platform for physical exercise. The final day of the tournament was celebrated with a lively closing ceremony at the Kingdom Schools Stadium in the presence of SFA Managing Director, Shaima Saleh Alhussaini.
As part of its commitment to raising physical activity levels in the Kingdom to 40% by the end of the decade — in line with Vision 2030 — SFA aims to provide people of all ages, backgrounds and walks of life access to quality sports provisions and experiences.
The Federation works to ensure that younger and more mature citizens and residents alike are given equal opportunities to lead healthy, active lives. The SFA Football Championship — and five-month football program established for players aged 50 and in the cities of Riyadh, Jeddah, Saihat and the Qassim region — was launched in accordance with this goal. 
Originally launched in partnership with the Newcastle United Foundation, the football project was introduced as part of an integrated program implemented in three stages. This included the training of coaches at the Foundation's headquarters in the United Kingdom. It also included the coaching of local trainers across the Kingdom.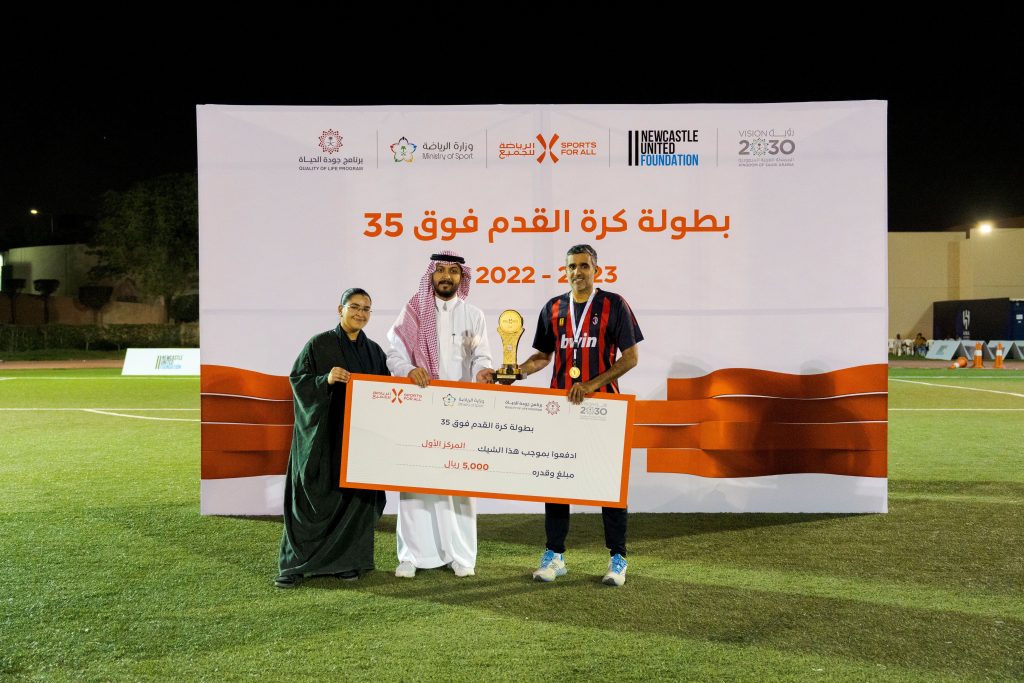 Aligned with the Quality of Life Program and Vision 2030, the SFA Football Championship and over-50s football program were set up to advance local sports culture. The launch of the two offerings adds to SFA's ongoing efforts to bolster the local sports industry, empower local talent and create rewarding engagements and events that transform the Kingdom into a leading sports hub.
Shaima Saleh Alhussaini, Managing Director of the Saudi Sports for All Federation, said: "We are delighted to have partnered with the Newcastle United Foundation to immerse more people across the Kingdom in the fun and joy of football culture. Known as 'the world's game', football is truly a sport for all — one beloved by Saudi fans of all ages, genders and backgrounds. 
She added: "With the Kingdom being home to a thriving and incredibly passionate community of football fans, it is vital that we ensure everyone gets the opportunity to live out their footballing dreams and adopt healthy habits by indulging in their love for the beautiful game. Over the past few weeks and months, we have done that and more; providing adults the chance to take part in exciting tournaments that cater to their age groups. We look forward to working even closer with the Foundation and putting more smiles on football fans' faces."
It is noteworthy that the first phase of the program was launched with the assignment of 10 trainers of both sexes, who received their training at the headquarters of the Newcastle United Foundation. 5 months in 4 different cities (Riyadh, Jeddah, Saihat and Al-Qassim), in which more than 1,900 participants participated.