Thousands of running enthusiasts came together for the Jeddah Half-marathon, bringing more than 3000 participants from across the Kingdom, the GCC, and further afield while uniting Saudi's eclectic fitness community. The marathon began at 6 am on the morning of December 10th and saw participants run from the Jeddah Yacht Club and cross Jeddah's spectacular Formula 1 circuit. 
On behalf of Prince Badr bin Sultan bin Abdulaziz, Deputy Governor of Makkah Region, Jeddah Governor Prince Saud Bin Abdullah Bin Jalawi presented awards to the winners of the Jeddah Half-marathon, organized by the Saudi Sports for All Federation (SFA) and supported by the Saudi Arabia's Ministry of Sports and the Vision 2030's Quality of Life Program.
A total of 3045 participants joined the race, supported by a large number of visitors and spectators who cheered the runners as they endured the much-anticipated half-marathon.
In SFA's spirit of delivering inclusive sporting activities, the marathon included a 21.1 km track for professionals, another 10 km track aimed at ages 17 and above, and a 4 km track catering to beginners and children. 
To incentivize participants, 24 winners received cash prizes estimated at a total of SAR one million, presented by Jeddah Governor Prince Saud Bin Abdullah Bin Jalawi, SFA President Prince Khaled bin Alwaleed bin Talal Al Saud, and SFA Managing Director, Shaima Saleh Al-Husseini
The race winners included Erik Kiplagat Sang from Kenya for the 21-kilometer elite runners for males, and Irine Jepchumba Kimais from Kenya won first place for elite runners for females. Wesam AL Farsi from Saudi Arabia won the 21-kilometer non-elite runners for males, while Sarah Kennedy from Great Britain won the non-elite runners for females.
For the 10 kilometers race, Raid AL Jedaani from Saudi Arabia finished first for males, with Sanchia Du Preez from South Africa finishing first for females. Within the 4 kilometers race, Saleh AL Malki finished first for males while Shikah AL Timawy finished first for females; both runners are from Saudi Arabia.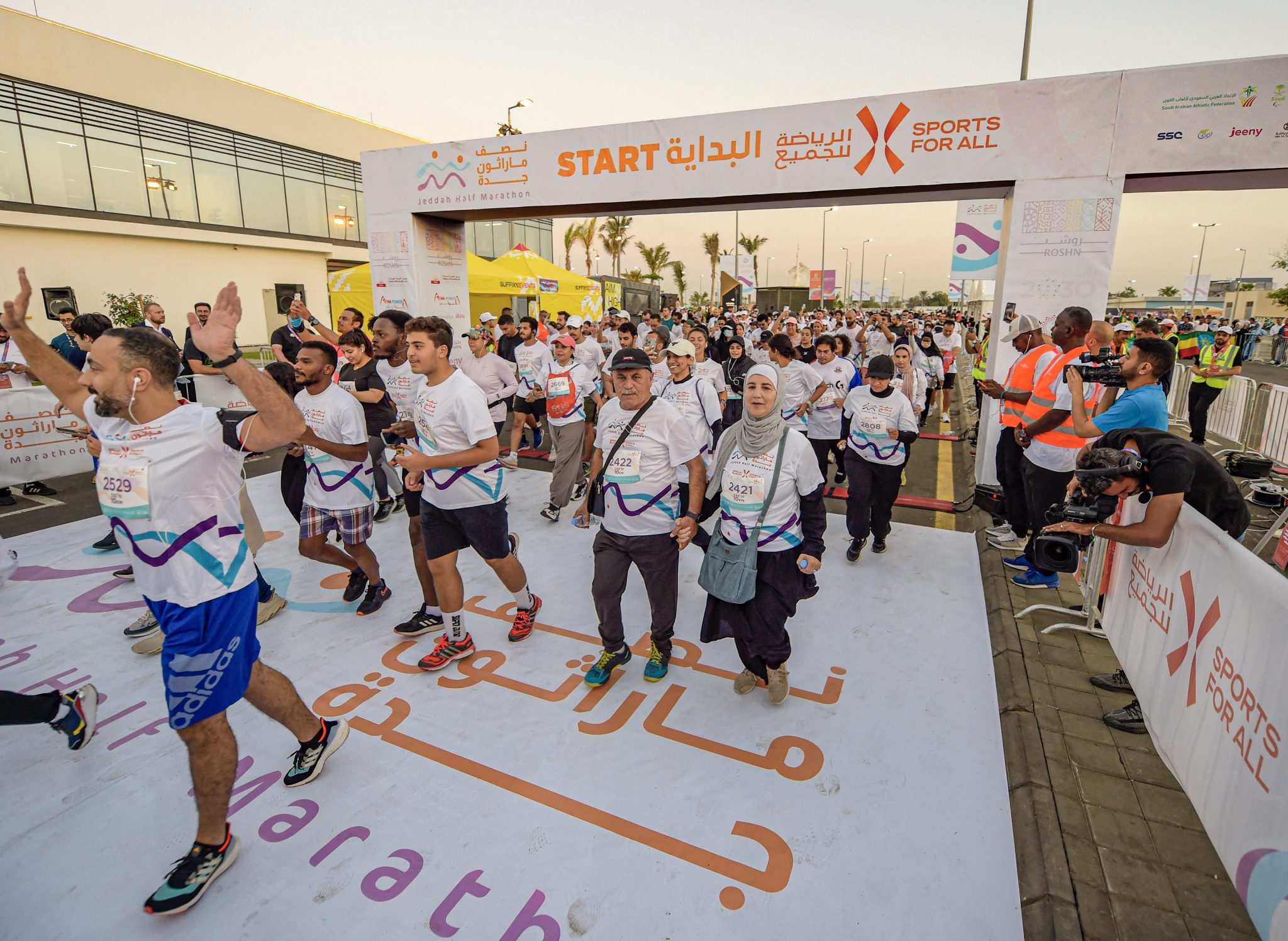 SFA President, Prince Khaled bin Alwaleed bin Talal Al Saud extended his thanks to all participants and partners of the half-marathon, including the Ministry of Sports and Vision 2030's Quality of Life Program, for their role in supporting the marathon's success. 
"We consistently strive to create high-quality sporting opportunities where members everyone can challenge themselves and practice regular physical activity. We are proud to see extremely enthusiasm for all of our events. Looking ahead, we want to break all records with the Riyadh International Marathon; we're counting on all of you across Saudi to show up in force," Prince Khaled added, referring to the event scheduled to take place February 11, 2023. 
The race is a vital element of both the Quality of Life Program and the "Vital Society Initiative", which was launched by SFA to safeguard the public's physical health and help members of society in the Kingdom live better and healthier lives. The half-Marathon is one of the Federation's major initiatives aimed at promoting a healthy lifestyle, and seeks to actively encourage people to move up the physical activity chain, in order to enhance social cohesion, public morale and wellbeing.
In addition to improving both mind and body, participating in the half-marathon enabled participants to really challenge themselves while enjoying an outstanding occasion to socialize with others. Moreover, recent research from the World Health Organization (WHO) has shown that regular physical activity helps prevent and treat noncommunicable diseases (NCDs) such as heart disease, stroke, diabetes, and breast and colon cancer. With this in mind, the Federation will continue delivering sporting initiatives and encouraging greater physical activity in the Kingdom.
ROSHN, the national real estate developer powered by the Public Investment Fund, sponsored the Jeddah half-marathon as the official community partner.
The Jeddah half-Marathon follows the successful Riyadh International Marathon, which saw over 10,000 participants of all ages and abilities from more than 100 countries take on one of the four races. More than 60% of the participants were Saudis, with strong representation from both men and women that showcased the high level of enthusiasm across the Kingdom to be more active and participative in sports.