People of all ages and abilities took part in the event in Al Khobar
More than 1720 elite, amateur, and people with disabilities took to the streets on November 27, 2021, for Khobar's International half marathon. Sponsored by the Saudi Sports for All Federation among other success partners, the event included a 21.1km half marathon for professional and amateur runners, an 8km race for amateurs, a 3km for all ages, and a dedicated 3km race for people with disabilities. The event attracted participants from more than 20 countries, including professional runners from Kenya, Morocco, and France.
The races took place along the Al Khobar Waterfront, with the Arabian Gulf serving as a backdrop. Kenyan Rhonzas Kilimo won the men's race in just over one hour, and Gloria Kite, also from Kenya, took gold for the women's race in one hour and 12 minutes. The dedicated race for people with disabilities saw Khaleel Albatran from Saudi Arabia win the men's race and Raneem Alfaraidy, also from Saudi, win the women's race. All finishers received a medal and certificate in recognition of their achievement.
"We want to congratulate everyone who participated in the event and also the winners from the different race categories. Physical activity has been proven to boost physical and mental health, and we at the SFA pride ourselves in working to motivate people across the Kingdom to stay active," said SFA President, HRH Prince Khaled bin Alwaleed bin Talal Al Saud.
"Inclusivity is embedded in everything we do, and it was inspiring to see so many people of all ages, genders, and abilities lining up to take part and push themselves to cross the finish line. We hope to build on that success and attract more people to start training and empower them to participate in more organized runs and sporting events in the future."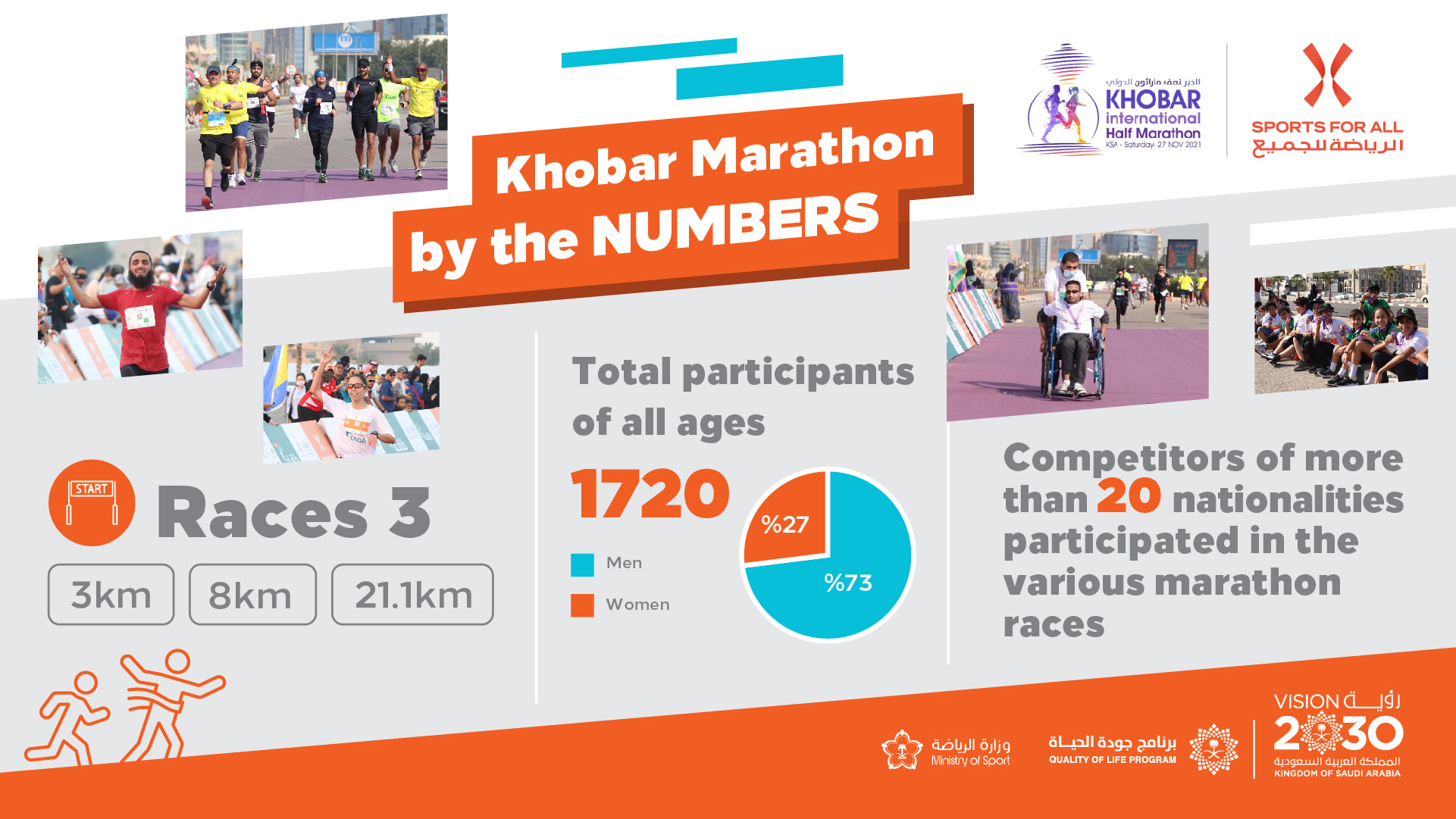 The Khobar half-marathon forms part of the build-up to the first full marathon in Saudi Arabia. The Riyadh Marathon is set to kick off on March 5, 2022. In addition to the full marathon, multiple races will be on offer to allow people of all ages, gender, and athletic abilities to participate. There will be a half marathon (21.1 km) for avid runners, a 10km race for those aged 17 and above, and a 4km race for beginners and children from all members of society.
The marathon is one of several initiatives launched by the Saudi Sports for All Federation to activate the population and increase the percentage of people who regularly engage in physical activities in the Kingdom to 40% by 2030. The SFA contributes to achieving this goal by facilitating and organizing sport activities and events, launching awareness campaigns, and collaborating with both government and private sector to encourage all members of society to adopt a healthy and active lifestyle.
Related: Saudi Arabia Announces First Full Marathon In The Kingdom Staged By The Sports For All Federation