Six tips to help you explore CrossFit with a first week's workout
CrossFit is often described as the ultimate way to transform your body into a powerhouse. Curious to find out more? We've put together a list of how to get started before you set foot in a box – that's CrossFit lingo for a gym and it's where the WODs (Workout Of the Day) take place.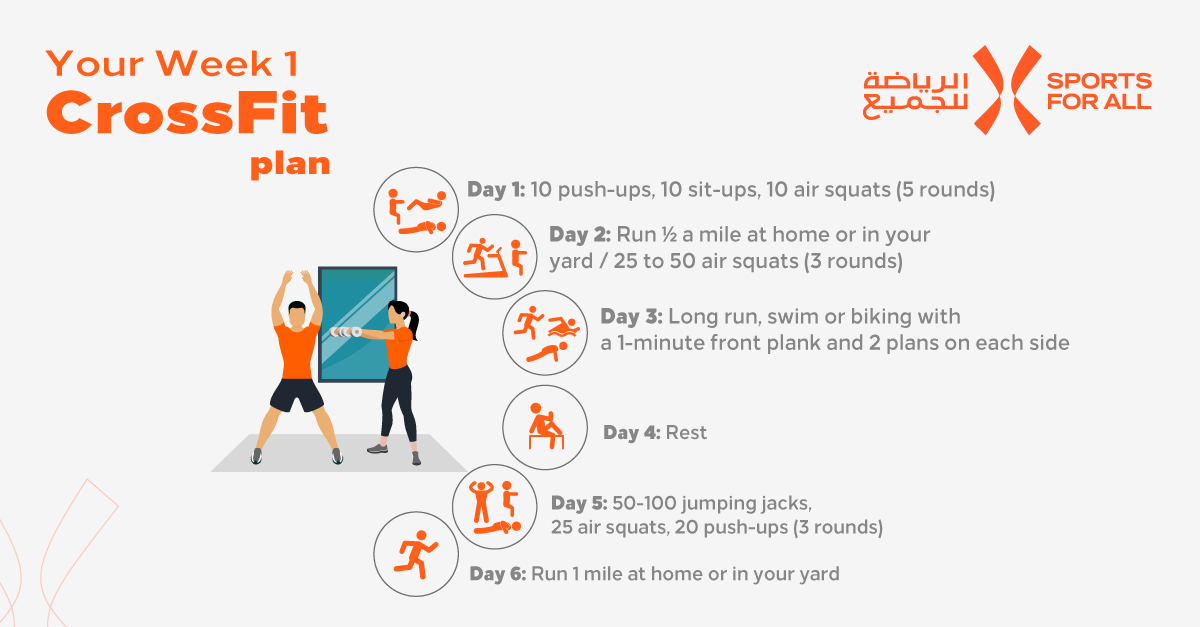 Visit a gym in your area
One huge advantage right off the bat is that there are approximately 13,000 boxes around the world, so finding a spot to workout is relatively easier than if you were pursuing another sport. Some of the things to look out for include: the quality of coaching, safety in the box, the culture of the environment and the schedule. You'll want to find a suitable coach in a comfortable environment.
Don't be intimidated
If the CrossFit Games was your inspiration for joining the sport, don't let the super fit intimidate you. Remember that these are people who all started their fitness journey somewhere, maybe even less than fit than you, so use them as motivation to increase your strength and fitness. CrossFit is really inclusive in that you can perform and scale each exercise according to your individual fitness level.
Take it slow
Yes, the nature of CrossFit is to be competitive and if we're being completely honest that's probably part of the reason why the workout appeals to you. The urge to workout on a par with the long-time box goers may be irresistible but do try to hold back. If you're a beginner, trying to do too much too soon is going to result in injuries and probably demotivate you from going back.
Get comfy
CrossFit requires you to be comfortable. Wear clothing loose enough to move, in material that allows your skin to breathe and pull moisture away from it because to be honest, this is one workout where heavy sweating will be involved. It's also a good idea to wear flatter trainers because a cushioned heel could throw off your balance on certain moves. (Check out a guide here.)
Ask questions
Your coach is there to help you reach your goals and answer questions about anything you don't understand – whether it's regarding the correct form of a move or if an exercise is uncomfortable. They're also the best person to ask about correctly scaling your workout to improve the intensity without injury.
Eat properly
One of the quickest ways to undo all your hard work is not eating correctly. Make sure you're eating a balanced diet in the right proportions of protein, carbs and fats. It could be a good idea to track your macros to ensure you're getting the most out of what and when you eat.
Embarking on a new fitness journey is exciting because you have made the decision to take steps towards creating healthier habits. If you decide CrossFit is for you, take advantage of all the resources the community has to offer to get the most out of your new lifestyle!
---
Healthy Living is a frequently updated content section brought to you by the Saudi Sports for All Federation. In the spirit of supporting our #HealthyActiveCommunity, we're sharing tips around wellness, physical activity and more!