Cardio is the most popular form of exercise with 44% selecting it as their workout of choice
An informal Twitter poll conducted by the Saudi Sports for All Federation (SFA) has revealed high levels of awareness around the benefits of continuing exercise throughout the holy month.
The SFA carried out a Twitter poll (click here to see it on Twitter) of people taking part in its online Move to Donate campaign which ran throughout Ramadan. The poll revealed that 43% of poll respondents kept their regular workout routines throughout the month, while 22% took a break.
Maintaining good health was primary motivator identified by 45% of the poll participants, while 17% said they work out to stay in shape.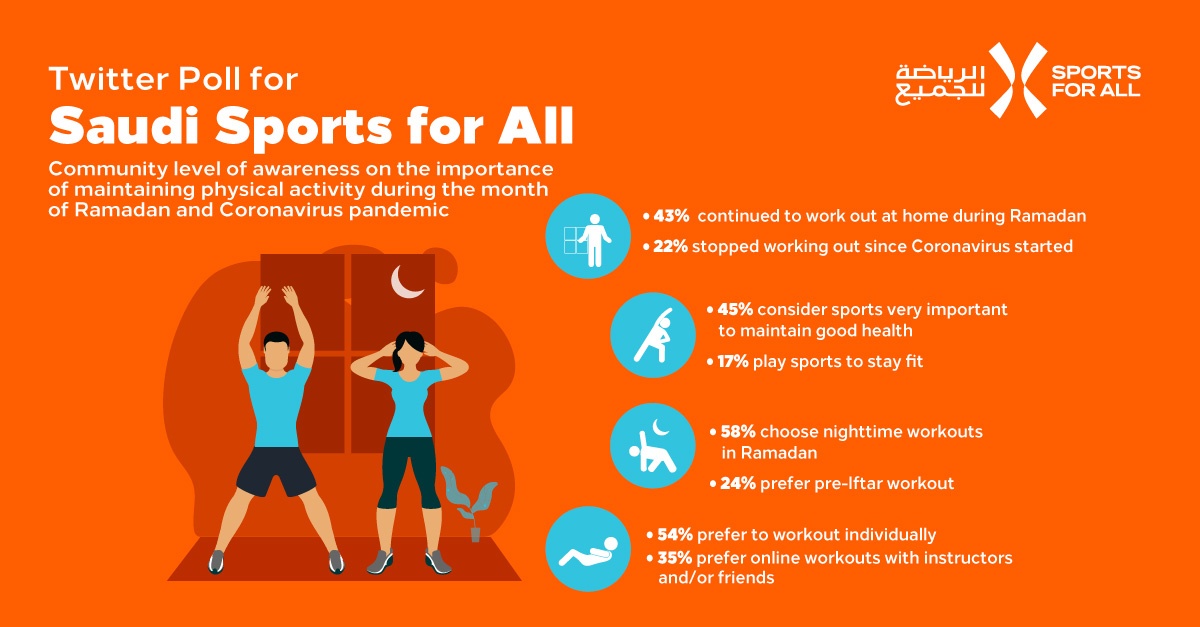 Results also showed that 58% of those that answered the Twitter poll preferred to exercise at night, with 24% practicing before Iftar. Due to the lockdown restrictions imposed by Covid-19, 54% said they chose to work out alone while 35% took part in online classes with trainers and friends.
Cardio was the most popular exercise with 44% of our Twitter community saying it was their workout of choice, while 26% preferred CrossFit.
Many of the poll respondents had participated in the SFA's Move to Donate challenge which ran throughout Ramadan. It invited people to take part in workout activities at home then post a photo or video of themselves on social media tagging the challenge.
The SFA's Move to Donate campaign entailed donations to the Saudi Food Bank based on pledges made to workout from home.
Related: SFA Board praises the Federation's innovative approach to community fitness during the health crisis at quarterly meeting