Maram Adel Albutairi, Lujain MohammadAli Kashgari, and Roaa Hamza Qattan to stage the only Arabic-language sessions for the global event
Three players from the Saudi Greens Team will participate as online trainers in the Global Goals World Cup Club House (GGWCup). C-license certified coaches and Saudi Greens team members Maram Adel Albutairi, Roaa Hamza Qattan, and Lujain MohammadAli Kashgari will participate alongside athletes from all over the world beginning June 9, 2020.
The GGWCup Club House, a virtual fitness program aimed at spreading awareness of the United Nations Sustainable Development Goals (SDGs) through football. The 10 sessions staged by Albutairi, Qattan, and Kashgari will be the only Arabic-language Club House trainings, with the goal of engaging the wider MENA region in the online activation.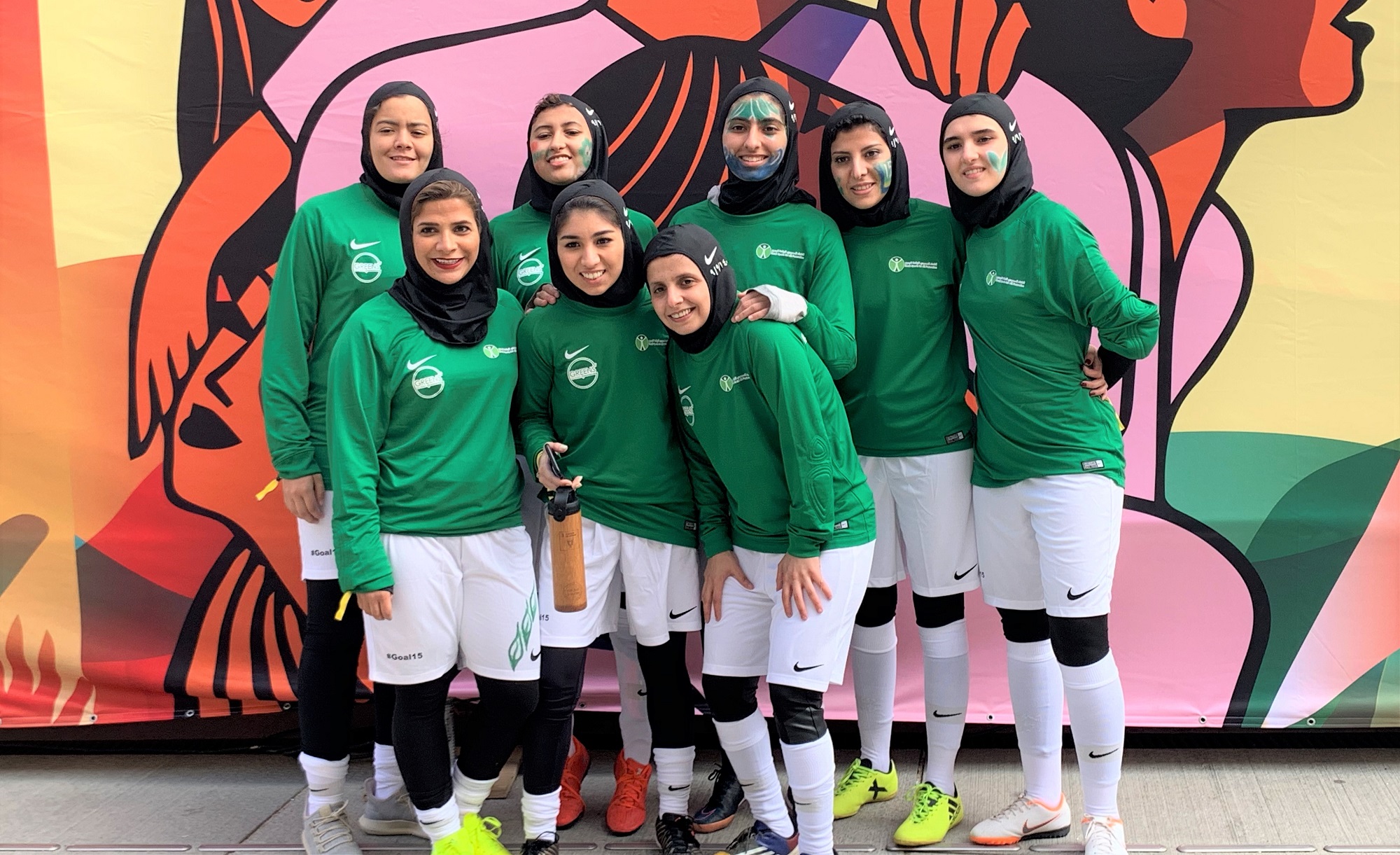 Each session plans to focus on a different football topic allowing for a varied and rich content schema, and also addresses a particular SDG in line with the program's wider aims.
The Saudi Greens team placed second in the 2019 GGWCup tournament in New York City, staged on the sidelines of the United Nations General Assembly. For the 2019 season, the Greens Team focused on SDG #15 "Life on Land".
The program ends on July 9, 2020, with workouts streamed through the GGWCup Facebook page and website here (ggwcup.com).
The workouts will also be promoted on the account on the Instagram accounts: @GGWCup and the @Greens.Saudi. Tune in and use the official hashtags #GGWCUP and #ClubHouse.
Join us online in working out with the Saudi Greens and check out the full schedule below:
June 9, 2020 7:00pm Maram Adel Albutairi | Healthy Baller
June 11, 2020 7:00pm Lujain MohammadAli Kashgari | Football Fundamentals
June 16, 2020 7:00pm Maram Adel Albutairi | Remember to Hydrate
June 18, 2020 7:00pm Lujain MohammadAli Kashgari | Pursue Your Dreams with Talent
June 23, 2020 7:00pm Maram Adel Albutairi | I'm A Player
June 25, 2020 7:00pm Lujain MohammadAli Kashgari | Sustainable Celebration
June 30, 2020 7:00pm Maram Adel Albutairi | Because I'm Cool
July 2, 2020 7:00pm Roaa Hamza Qattan | The Search for Stamina and Power
July 7, 2020 7:00pm Roaa Hamza Qattan | Green Baller
July 9, 2020 7:00pm Lujain MohammadAli Kashgari | United We Create the Goal
Related: SFA Managing Director participates in "Enabling Future Leaders" event on International Women's Day