SFA awarded for its proactive initiatives towards promoting and developing sports in 2020
The Saudi Arabian Olympic Committee (SAOC) has held its general assembly meeting along with elections to appoint its President, Vice-President and Board Members on Sunday, May 23rd, 2021. The general assembly and elections followed regulations set out by the International Olympic Committee (IOC).  
The elections saw Minister of Sport HRH Prince Abdulaziz bin Turki Al-Faisal Al-Saud re-elected as President of the SAOC. Meanwhile, Saudi Sports for All Federation (SFA) President, HRH Prince Khaled bin Alwaleed bin Talal Al Saud was appointed to the SAOC board along with other contemporaries and influential decision-makers. He was also renewed as SFA President for the next four years.  SFA Managing Director Shaima Saleh AlHusseini was also appointed to Saudi Arabian Olympic Academy board.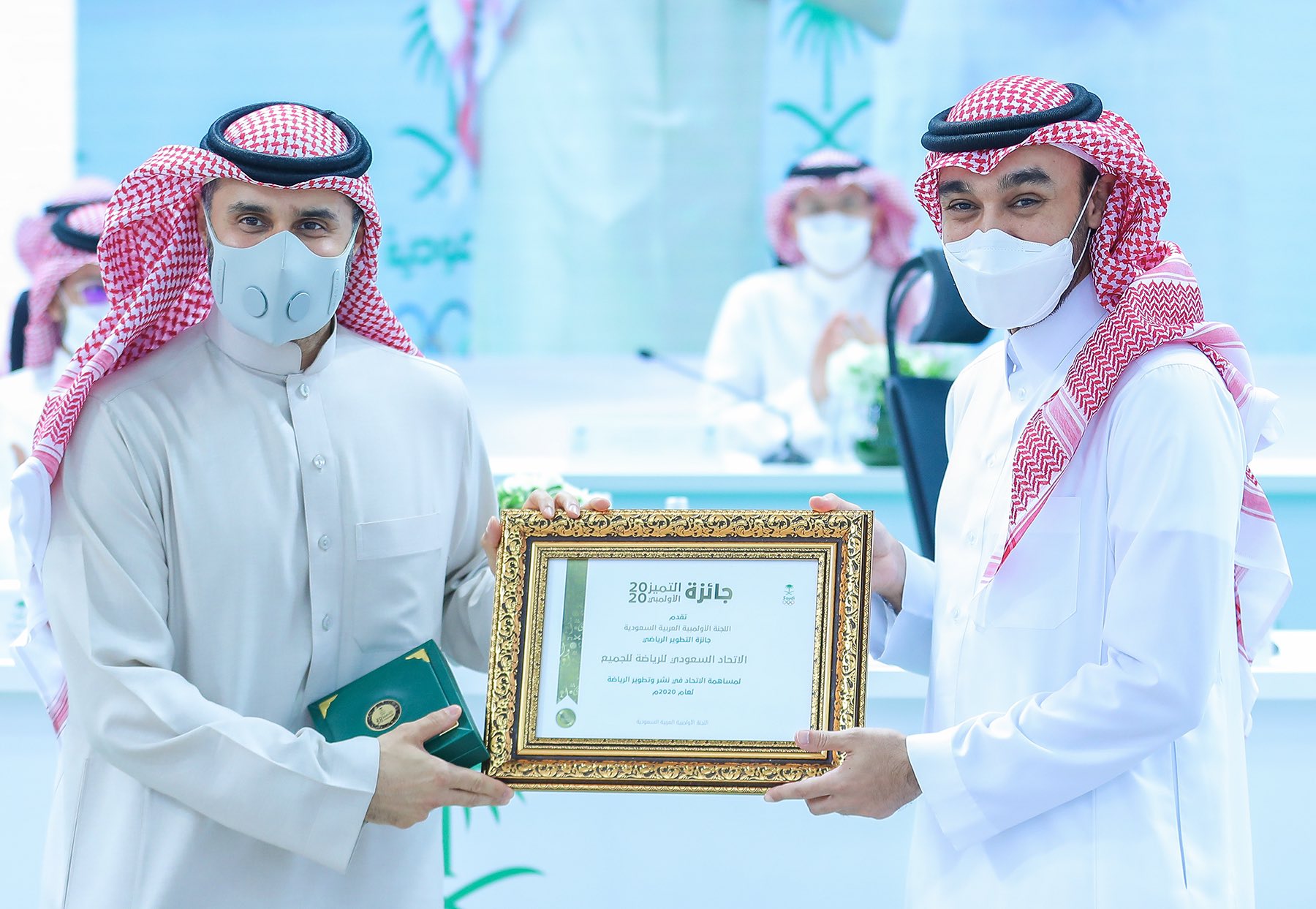 "Serving Saudi as the President of the Sports for All Federation has been a privilege, and I am proud to now build on that honor by serving the country as part of the esteemed Board of the Saudi Arabian Olympic Committee," said HRH Prince Khaled bin Alwaleed bin Talal Al Saud. "My warmest thanks to Minister HRH Prince Abdulaziz bin Turki Al-Faisal for granting this opportunity; I am looking forward to helping shape the Kingdom's elite sports ambitions alongside some of Saudi's most dedicated individuals. We will continue growing, together."  
During the SAOC general assembly, the SFA was awarded for its Sports Promotion and Development activities, given its relentless pursuit of creating a healthier, more active Saudi society. The award was presented by Minister for Sport Prince Abdulaziz bin Turki Al-Faisal Al-Saud to SFA President Prince Khaled bin Alwaleed bin Talal Al Saud. 
The SAOC award pays homage to SFA's work in engaging the community to promote a healthier and more active Saudi Arabia, and for inculcating a health-first mindset nationally. It follows on from the SFA's recent Middle East Public Relations Association (MEPRA) Awards win – where SFA campaign Baytak Nadeek (Your Home, Your Gym) scooped Gold in the Best Campaign in Saudi Arabia category for 2020, while its Move to Donate campaign won silver in the Best Sports and Recreational Campaign category. 
The SFA has kept the positive momentum created in 2020 to hit new goals in 2021. This year, SFA has recently been lauded for its Start Now (#ابدأ_الآن) campaign, which calls on people of all ages, abilities and backgrounds to engage in physical activity — irrespective of age and physical activity. Meanwhile, the Federation's Step Together series of challenges encourages people to keep moving by setting participants running and walking challenges. During Ramadan 2021, the SFA also ran its Ehsan Steps Challenge, partnering with SDAIA and Al Nahdi to invite the nation to take a step forward for charity.  
The SFA works closely with entities including the Ministry of Sport, SAOC, Ministry of Municipal and Rural Affairs and Housing and the Saudi Data and AI Authority (SDAIA) to achieve its goal of a healthier, more active Saudi Arabia. This collaborative approach amplifies the SFA's impact in furthering the Quality of Life program mandated in the Saudi Vision 2030. The Quality of Life program calls for increasing the number of people undertaking regular physical activity in the Kingdom to 40% by 2030, and the Federation is helping meet this target by facilitating sporting opportunities and initiating campaigns encouraging exercise.  
Related: In Celebration Of Vision 2030'S Fifth Anniversary, Saudi Sports For All Federation Reaffirms Its Commitment To Making Saudi Arabia A Global Beacon Of Health And Wellbeing